Experimenting With Your Restaurant's Concept? Try Expanding Your Brand.
Restaurants are the quintessential tinkerers. With low margins, increasing rents, and the whims of consumers to balance, the average lifespan of a restaurant in America is five years.
The concept of Brand Experimentation
Some restaurants are fighting back by experimenting with their concepts. Recently, Subway has updated both their brand and in-store experience, as have Taco Bell and IHOP.
Rebranding can get expensive for both corporate and franchise owners, exponentially so for restaurant chains like Subway who have 40,000+ locations worldwide.
There is a less expensive way.
Schnippers already has one of the best brands in the fast casual market. It's modern, illustrative and direct. This isn't by accident. Their stores are clean, ordering experience is made easier by its menu and the food is delicious.
So when Schnippers decided to experiment with its concept, it knew better than to interfere with its already-excellent branding.
They introduced a sub-brand: Thunder Bun.
Thunder Bun has one location, a simplified and modern menu, and an even easier ordering experience. Doing this with the Schnippers brand would have confused customers, and put their brand at risk. They foresaw this and introduced Thunder Bun as a complement to their brand. It's blue primary color palette is a perfect fit, and wall-mounted iconography guides the customer seamlessly through the ordering process.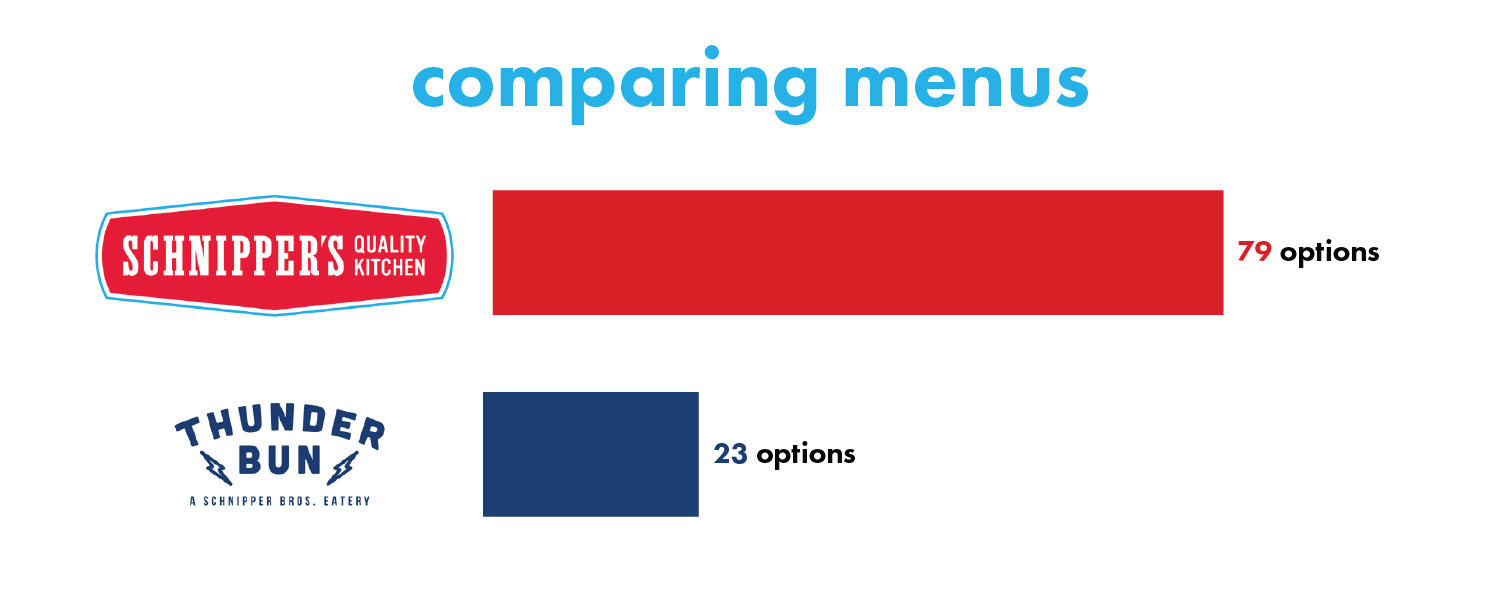 Thunder Bun limits the Schnipper Bros' exposure.
If it doesn't work, they can explore another option, or revert back to the Master Brand. They didn't even have to take all the Schnippers decor down, limiting construction costs.
Brands in other industries have experimented this way in the past. Remember Delta's Song Airlines concept?
Employing the sub-brand strategy can save time, effort and lots of money. If it works, the restaurant may consider migrating some, or all of its locations to this identity, with a proven concept they know will work. This is a fine example of safe branding, which we specialize in at DBC.
The Review
As brand experts, we like to get to the bottom of every story we write about, so we headed over to Thunder Bun as a team to do some research. We can report that the food is amazing (where else can you get a burger with a charred broccoli side!), the in-store team is friendly, and most importantly, it's a 2-minute walk from DBC's office.
Do you know a restaurant group/owner with a new concept they want to test? Introduce us, or share this article with them.